Using snowfall and snowmelt data from Alaska to understand past and future climate change.
School of Ice – Virtual Field Labs –
Climate Warnings from Alaska with Dr. Dom Winski
Introduction to Dom and his role as a climate change researcher.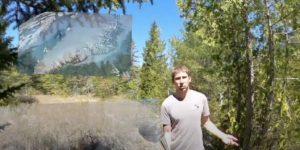 Analyzing snowfall in Alaska and why it is important to look at the overall story data tells and not just "cherry-picked" data points.

Analyzing snowmelt data in Alaska and how changes in Alaska's climate over the past millennium can tell us about the future of climate change on Earth.